BOTTOM LOADING TANK CAR VALVES
Product Announcement from Metso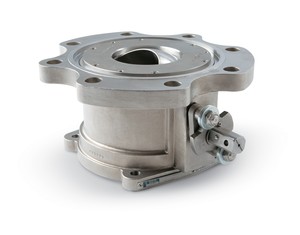 A new JAMESBURY Bottom Outlet Tank Car Valve design from Metso Automation sets new industry standards for safety, sealing capabilities, higher flow rates, and product durability.
By changing from a reduced port to a full port ball valve design, JAMESBURY engineers have dramatically improved the flow capacity of the new Tank Car BOV allowing for drastically reduced unloading times. In addition to delivering improvement in car unloading productivity, faster turns at the loading station also limits time of exposure of each tank car to unloading safety risks. Another important safety feature of the JAMESBURY Tank Car BOV is its FIRE-TITE® design. In the event of a fire resulting in partial or complete destruction of the PTFE seats, a secondary metal sealing surface provides continuous effective shutoff. The valve is fire-tested to meet the stringent API 607 specifications.
JAMESBURY's exclusive XTREME® seat provides superior sealing and durability. 9RET/9REL Series bottom outlet valves are rated for pressures and temperatures well in excess of those that are normally encountered in tank car service. Carbon steel valves are rated from -20 degrees F to +500 degrees F. Stainless steel valves are rated from -60 degrees F to +500 degrees F. The pressure rating is 285 psi at ambient temperature. JAMESBURY flexible lip seat design provides tight shut-off and durability far superior to that of conventional "jam" seats. This design substantially reduces the operating torque requirements for the valve.
Live-loaded V-Ring stem sealing further enhances the valve's leak-inhibiting performance. In addition, the valve body has been redesigned to move the insert adjacent to the tank car to eliminate a leak path that impacts all other bottom loading valves.
---