VALVCON Actuators Offer Corrosion Resistance
Product Announcement from Metso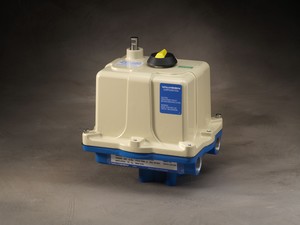 VALVCON brand Q6 Series compact, electric, quarter-turn actuators from Metso Automation for oil field applications have been redesigned with materials that resist the corrosive effects of ambient moisture and hydrogen sulfide. Compatible materials for housings, bolts, and surface coatings have been carefully chosen to resist corrosion, galling of bolts, and flaking of paint. This ensures that components of the compact and reliable Q6 actuator are well-protected and readily accessible for maintenance even after long periods of exposure to adverse conditions on the pipeline.
V Q6 series actuators are designed for use in remote, solar-powered locations. The low-current draw DC motor, built-in dual relays, lightning surge protection, and NEMA 4, 4X, 7 and 9 enclosures make this product an ideal choice for use in oil and gas fields, off-shore rigs, remote skids, and many other rugged applications.
The actuators, which are CSA certified, have a torque range up to 600 inch-pounds (820Nm). The VALVCON Q6 models are available in three styles, making it cost-effective in choosing the options a company needs. These include the Q6.2.2, an ultra-reliable compact actuator designed to reduce total installation operating costs, the Q6.2.1, incorporating under-the-cover pushbuttons for fast adjustments without the need for a remote signal, and the Q6.0.1, which includes pushbuttons as well as an adjustable torque switch for torque seating.
VALVCON distributors offer a variety of delivery options. Standard products, not on-shelf, can be delivered in less than two weeks and a Quick Ship option provides for overnight delivery.
VALVCON is a leading brand in the design and manufacturing of compact, reliable, electronically controlled electric actuators for valves and dampers. They are used in a wide range of industries, including aerospace, automotive, consumer services, discrete manufacturing, energy, environmental, oil/pipeline, petrochemical, power/utilities, process, recreation, transportation, and water/wastewater.
For more information, contact Metso Automation, 44 Bearfoot Road, Northborough, MA 01532. Phone: 1-508-852-0200. Visit us online at www.metsoautomation.com.
# # #
Metso Automation specializes in automation and information management application networks and systems, field control technology and life cycle performance services. Its main customers are the pulp and paper industry as well as power, energy and oil and gas industries.

Metso Automation operates worldwide and has sales and customer support units in 34 countries in Europe, North and South America, Asia and Australia, and Africa. In 2006, Metso Automation's net sales were EUR 613 million. The number of employees totals approximately 3,300. For more information about Metso Automation, please visit www.metsoautomation.com.

Metso is a global engineering and technology corporation with 2006 net sales of approximately EUR 5 billion. Its 25,500 employees in more than 50 countries serve customers in the pulp and paper industry, rock and minerals processing, the energy industry and selected other industries. For more information about Metso, please visit www.metso.com.
---