Product Announcement from Mettler-Toledo Process Analytics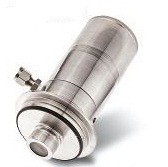 The InPro 5500i can be installed easily with a choice of process connections including Varivent, Tri-clamp and 28mm/M42. Its hygienic and simple membrane design reduces maintenance efforts, while the absence of moving parts ensures a reduced failure rate and high operational uptime.
METTLER TOLEDO's Intelligent Sensor Management technology is installed on the InPro 5500i: advanced diagnostics tools, Plug and Measure feature, and pre-calibration routine support trouble-free and fast start-up, and operation. The Membrane Integrity Detection function informs operators of a drop in membrane reliability. This unique feature allows operators to perform a membrane change before measurements and product quality are affected. The Dynamic Lifetime Indicator and Adaptive Calibration Timer inform operators when the sensor will need servicing. Maintenance shifts from a regularly scheduled or reactive process to one where tasks can be planned in advance. Calibration of the InPro 5500i is a simple operation and can be conveniently performed in-line.
Unlike other CO2 sensors, the InPro 5500i protects itself from damage during SIP/CIP cycles or when the purge gas or sensor membrane fails, and therefore helps provide long sensor lifetime.
For processes where O2 and CO2 measurement are of high importance, a package of the InPro 6970i O2 and InPro 5500i CO2 sensor using a multi-channel transmitter will solve measurement needs at reduced investment and installation cost.
Free White Paper: Safeguarding CO2 Measurements
More information on www.mt.com/ism-brewing
You have successfully added from to your part list.
---