Product Announcement from Mettler-Toledo Process Analytics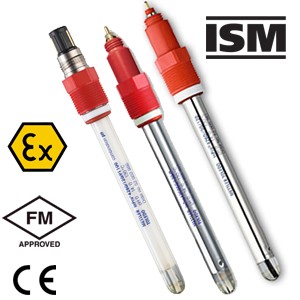 InPro 4800 for Harsh Environments
The InPro 4800/InPro 4800SG is the top-of-the-line combined pH and temperature electrode family designed to handle high-temperature and high-pressure dirty chemical applications. The strong resistance to oxidizing media, solvents, and acid and alkali solutions make it suitable for highly demanding industrial applications including chemical processing, chlor-alkali, pulp and paper, dyes and pigments, and sugar processing.
The InPro4850i Dual-Membrane pH Electrode for Chlor-Alkali Processes
The InPro 4850i combination electrode for pH/ORP measurement in chlor-alkali processes, combines accurate measurement with durability. The electrode's sodium-sensitive glass membrane uses the sodium concentration of the chlor-alkali process brine as a reference. This reference system has no diaphragm and is therefore immune to chlorine and other oxidizing agents that lead to failure in other electrodes. The high quality pH-sensitive glass membrane is extremely resistant to chlor-alkali process conditions, ensuring precise pH measurement.
ISM technology is coming soon*
InPro 4260 Reliable, Long-lasting Electrodes
The new InPro 4260 is a combined pH electrode and temperature sensor family designed for highly demanding chemical applications. The new InPro 4260 electrodes feature the new Xerolyt® Extra polymer reference electrolyte for precise pH measurement and longer lifetime, even under the most difficult industrial environments.
InPro 3250 Highest Performance, Highest Accuracy
The new InPro 3250 family is a pre-pressurized, liquid-filled, low-maintenance pH sensor and temperature sensor for in-line measurements in demanding applications. Its durable design is well suited for harsh chemical process conditions or meet the stringent demands of sterile biotech applications where CIP and SIP are used. These rugged electrodes lead the industry for fast and precise measurements, even after repeated autoclaving or sterilization cycles at 140°C (284°F). The new InPro 3250 family is available with an expanded selection of different pH-sensitive glass membranes. This guarantees the best possible measurement performance under the most diverse operating conditions, both in chemical and biotech processes.
InPro 3100 Pressure-Resistant Biotech and Pharmaceutical Electrode with Integrated RTD
The InPro 3100 is a combined pH electrode and temperature sensor designed specially for in-line pH measurements in bio-processes where CIP and SIP are used. This rugged gel-filled electrode leads the industry for fast and precise measurements, even after repeated autoclaving or sterilization cycles at 140°C (284°F). The electrode utilizes METTLER TOLEDO's patented silver-ion trap, keeping the reference junction clear even in the presence of sulfide-bearing solutions. With the InPro 3100UD, upside-down mounting is possible.
InPro 2000 Liquid-Electrolyte pH-Electrode with Integrated Temperature Sensor and VP Connector.
The InPro 2000 is a combination pH electrode with an integral temperature sensor designed for highly demanding applications. Three liquid electrolytes are available adding versatility; 3M KCl is a classic electrolyte offering high flow for improved junction cleaning, Viscolyt® has limited flow for reduced maintenance needs, and Friscolyt® is ideal for process media with high protein or organic solvent content, and in low temperatures. Applications range from biotechnical processes requiring in-situ sterilization to dirty industrial processing chemicals.
You have successfully added from to your part list.
---