Product Announcement from Mettler-Toledo Process Analytics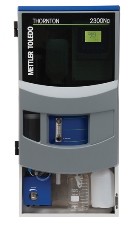 The new Mettler-Toledo Thornton 2300Na Sodium Analyzer provides efficient and reliable monitoring of low sodium concentrations for these applications:

- Ultrapure water monitoring at sub-ppb sodium levels to assure highest quality water is delivered to critical areas.
- Cation exchange monitoring in pure water treatment detects first breakthrough of sodium to trigger regeneration before contamination reaches subsequent treatment stages.
- Power steam quality monitoring protects turbines from sodium attack, preventing stress corrosion cracking and other failures.
- Power condensate monitoring detects very small leaks to allow corrective action before they cause an unplanned shutdown.
You have successfully added from to your part list.
You need Flash player 8+ and JavaScript enabled to view the Sodium Analyzer With Fully Automatic Calibration video.
Get the Latest Flash player.
---