Boring Bars and Grinding Quills
Product Announcement from Mi-Tech Metals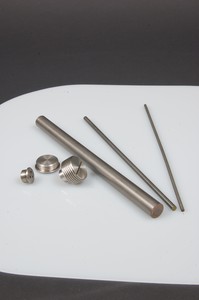 Superior quality, improved performance and reduced costs for both materials and finishing-tungsten alloys, namely our Chatter Free and Super Chatter Free® products, set the standard for boring bars and grinding applications. Use our high-density alloys for less vibration, heavier cuts and better finishing. The high-thermal conductivity of tungsten alloys also means your tools run cooler and last longer. You can also braze directly to materials without affecting their physical properties.
If you're looking for minimum vibration and maximum durability, look to Mi-Tech Metals' material for boring bars and grinding quill metals. For more information see the Chatter Free or Super Chatter Free product pages or contact a Mi-Tech Metals professional to see how our tungsten material for boring bars and grinding quills can benefit you.
Please click on the buttons on this page for more information or request a quote today!
---