Machining and Joining Tungsten Alloys
Product Announcement from Mi-Tech Metals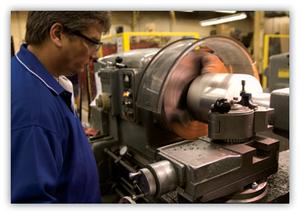 Machining Tungsten Alloys
Tungsten alloy's low-thermal expansion rate and resistance to breakage and chipping allow you to achieve very close tolerances and hold fine finishes. Coolants are optional, reducing your processing costs and, in most cases, your carbide tools will machine our high-density alloys well.
Turning and Boring
Carbide inserted cutters are suggested. Roughing - Cutting depth of .030" to .125" and .008" to .015" feed, at speeds of 200 to 300 SFM. Finishing - .010" to.015" cutting depth and .004" to .010" feed, at speeds of 250 to 400 SFM.
Tapping
Use high-speed steel or carbide, two flute plug spiral point taps. A light tapping fluid is recommended.
Drilling and Grinding
Carbide drills usually work best. Increasing clearance angles and using automatic feeds are often helpful to prevent inadvertent binding and seizing. Carbide drills give a better tool life.
For grinding applications, we recommend using aluminum oxide or silicon carbide wheels of medium hardness.
Milling
Carbide cutters are suggested.
Roughing - Feeds of .007" to .015" per tooth at speeds of 200 to 400 SFM.
Finishing - Feeds of .003" to .010" per tooth at speeds of 300 to 700 SFM.
Sawing or Cutting
Despite the incredible strength of our high-density alloys, materials can be cut nicely using a bi-metal blade. Blade pitch should be relative to the thickness of the material. Coarse blades can be used at low speeds; finer blades can be used at higher speeds. Coolant, though not usually necessary, can be used. Tungsten alloys can also be cut using high-speed abrasive cutoff wheels.
Stress Relieving
To perform stress relieving on high-density alloy machined parts, we suggest heating at 600°F in air for two hours and cool in air or in a protective atmosphere at 900°F for 30 minutes.
Contact a Mi-Tech Metals professional for more information on which method would be best for your application.
---