Made in the U.S.A.
Product Announcement from Mi-Tech Metals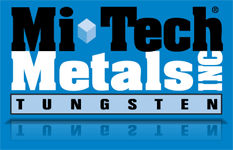 Ensuring we deliver the most uniform, reliable product possible is of utmost importance. From powder to machining, our tungsten composite materials are checked, rechecked and then checked again to ensure excellent conductivity and consistency.
The high electrical and thermal conductivity of tungsten composites allows a cool, effective transfer of power, while the excellent arc-resistance properties of tungsten composites minimize arc erosion and transfer problems. These characteristics can be varied by composition-more silver or copper yields higher electrical and thermal conductivity, while a higher refractory metal content results in superior arc erosion properties. Mi-Tech Metals offers a variety of composites to meet your demands. Regardless of the environment (oil-filled devices, air and gas circuit breakers, contactors, high voltage switch gear) or the application (arcing contacts and plates, arc runners, current carrying members and blade facings), you won't be disappointed in electrical contacts made from Mi-Tech Metals' copper and silver tungsten composites.
For more information on using tungsten composites in your electrical contact applications, contact a Mi-Tech professional.
---