Download our 2015 Measurement Product Guide
Product Announcement from Micro-Epsilon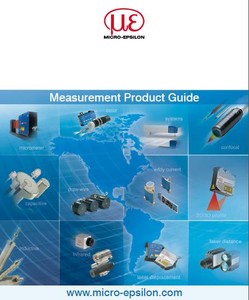 Download a complimentary copy of our new catalog, "Measurement Product Guide 2015," for detailed information on our displacement sensors (laser triangulation, confocal-chromatic, gaging and distance, capacitive, eddy current, inductive, and draw-wire), 2D/3D sensor systems for dimensional measurement, Color sesnors, IR-temperature sensors, and custom sensor solutions.
Micro-Epsilon is always pursuing the challenge of developing high precision sensors, measurement equipment and systems. This challenge represents the drive for continued high performance in the field of measurement technology. Behind Micro-Epsilon there is a strong group of companies providing strategies which emphasize different aspects, facilitating the group's leadership in sensor technology. Along with the a concentration of expertise in sensors for geometrical and dimensional quantities, our latest technology focuses on non-contact temperature measurement instruments and COLOR sensors.
In combination, the members of the company group interact with one another like the gears of an accurately running clock mechanism - with more precision. Apart from the physical resources, the accumulated knowledge is regarded as the core capability which provides the technological lead and consolidates it for the future.
It is only through consistent knowledge management that such sustainable high performance can be achieved and incorporated into all product groups.
From large global groups through medium-sized companies to engineering service providers - sensors and solutions from Micro-Epsilon are regarded throughout the world as symbolic for reliable measurement results of the highest precision.
---