ILR Series Time of Flight Distance Sensors
Product Announcement from Micro-Epsilon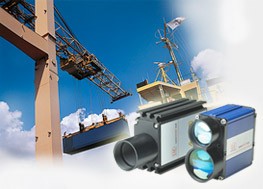 MICRO-EPSILON offers state of the art time of flight sensors for measuring distances from 0.4m up to 3000m. The ILR series offers low cost units, economic models and high-end, cutting edge technology for the most challenging and accurate measurements.
These optical devices provide a fast, accurate and true non contact measurement against any target.
The ILR 1191 is the flagship of the non contact distance sensors. With it`s time of flight phase shift technology it reaches < 0.1mm resolution at distances up to 3000m!
Sensing range: 300 .. 3000m
Resolution: 0.1mm
High speed 2000 Hz
Additional intensity, temperature and velocity signal
analog & digital interface
operating temperature -40C .. 60C with IP67
MICRO-EPSILON offers twelve more models suited for different needs in various applications.
The ILR10xx series represents the low cost option for the time of flight technology.
The ILR110x/115x offer the most compact housing with maximum flexibility and features, it even has a display with touch keys
The ILR118x is the trimmed for maximum accuracy.
All these units are easy to set up and offer the only valid solution for a true optical non contact displacement measurement for large distances.
Download your free catalog now!
---