Product Announcement from Micro-Epsilon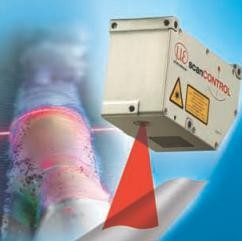 The scanCONTROL 2700 laser line camera uses the triangulation principle for an acquisition of a two dimensional height profile of most target surfaces.
Regardless of the position, angle and ambient conditions, the profiles are output as absolute calibrated data sets in a two -dimensional coordinate system which is fixed in respect to the sensor. This unique capability and compact design allows the camera to be successfully used in dynamic, robotic and online applications without compromising accuracy.
By moving the object or the sensor, it is possible to obtain a precise three dimensional image of your target as well as an intensity image.
The high speed communication and image transfer takes place via the 1394 fire wire or the Ethernet GiGE interface. The free comprehensive software development kit (SDK), which includes DLLs, program examples, NI Labview interface and much more, allows easy integration with maximum flexibility for programming and profile analysis.
We also provide various ready to use analysis software programs so you can start using the LLT line camera out of the box.
Compact, small design
No additional controller
64,000 data point/s
Large stand off (90..600mm)
True calibrated data points
no external lighting
The LLT2800 model sets the benchmark in performance within the laser line cameras. With a 4000 HZ profile rate and a 250,000 Hz data point rate, even the fastest events can be measured.
The LLT2810 /LLT2710 is a derivative of the 2800/2700 series, which runs embedded profile applications inside the sensor controller offering complete stand alone sensor solutions. With this option you can create an intelligent sensor for:
Gap measurement
Edge detection
Angle measurement
Planarity measurement
Height and Width measurement
and many more.
You have successfully added from to your part list.

Play LLT 2700 Compact Laser Line Camera Video on YouTube
---