Micro-Epsilon NON CONTACT TEMPERATURE SENSORS
Product Announcement from Micro-Epsilon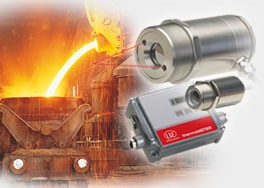 New benchmark in non contact IR temperature sensing offers best performance and price for non contact online temperature sensing. These units incorporate precision optics for a small spot size. The sensor head can be exposed to 180C (360F) without cooling and will measure accurate from -40C to 1800C (3200F) at extreme fast exposure of 1ms.
KEY FEATURES MICRO EPSILON Thermometer series CT:
180C(360F) head environment
sensing range: -40 .. +1800C (3300 F)
resolution 0.1C
response as little as 1ms
precision optics up to 75:1
various wave length (1um ..16um)
digital and analog outputs ( V,I,digital or J,K)
programmable emissivity
controller with comprehensive signal processing and display
EX proof, IP67, Vacuum rated
The latest developments allow a very small spot size by using a miniaturized sensing head. Besides an unmatched compactness, the CT models offer extreme precision optics with unique measurement features. Short wave length models 1M/2M/3M minimize the error on shiny metals, allow you to measure through glass and up to 1800C (3200F) at a measurement speed of 1ms!
A separate programmable controller offers maximum flexibility for the signal analysis and processing. FREE software package is included!
Precision handheld units, IR imagers and high precision laser IR thermometers can be found at www.me-us.com
---