NEW 2015 IR thermoMETER catalog
Product Announcement from Micro-Epsilon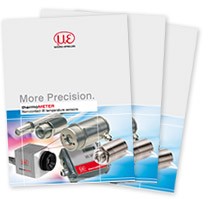 Micro Epsilon offers the most complete product spectrum for non contact infrared (IR) based temperature sensors.(-55C..2200C) Our hand held sensors, stationary instruments, compact OEM devices and cameras, all products feature the latest state of the art technology. The best performing sensors based on accuracy, speed, optics, size or wavelength for your individual application.
Non-contact IR temperature measurement
Each Micro Epsilon IR temperature sensor model incorporates state of the art technology to achieve one goal: Measure accurate and non contact temperature.
DOWNLOAD your free IR thermoMETER catalog
With this method we can offer a precise, wear free and fully non contact temperature reading without any physical effect or impact on the target.
Wide range of applications IR temperature sensors and IR cameras are used in a variety of applications within any industry from R&D to production and process monitoring.
TIM thermal imagers
CT-ratio two color pyrometer
CT -laser precsion IR instrumnets
CT economic IR instrument with specific spektral ranges (0.9 ..14um)
CS compact OEM IR thermometer
LS/MS hand held IR devices
Selectable target distance and spot size
Depending on the application and the real estate available, one can choose the ideal distance from the sensor to the target.
Due to the many different optics offered, very small spot sizes, even at large distances are possible.
Wide temperature range
IR Sensors made by Micro-Epsilon cover a huge span of temperature readings. Starting as low as -55C in cooling processes or labs and measuring up to 1800C (3270 F) on molten metals, these sensors measure precise and fast within the blink of an eye.
Smallest spot-diameter for tiny targets
Common IR sensors on the market can not measure temperature of tiny small parts such as leads of ICs, small hot spots on circuit boards, fiber strands etc.
Micro Epsilon offers the most sophisticated optics for the IR sensors to measure with the world's smallest spot sizes < 1mm
Proven technology
IR Sensors developed and produced by Micro Epsilon are most durable, robust and reliable with an extreme long life expectancy.
Cutting edge technology and continuous improvement in the design, results in IR sensor performances which are unrivaled. Sensors operate in 250C environment without cooling, survive 50g acceleration and read with a NEDT resolution of 25 milli Kelvin
For fast measurement events
Temperature of moving objects and fast events can be captured with the Micro Epsilon IR sensors which offer the fastest thermopile detector with an exposure < 9ms or photon detectors with a response time of 1ms. Even the IR imager takes real time frames every 10ms.
Compact sensor design
For restricted spaces or complete integration the Micro Epsilon IR sensors represent the most compact size in its class. Special models offer even integrated miniaturized signal process electronics for maximum compactness.
Precise and stable measurements
Micro Epsilon's diversity of spectral ranges from 0.9um to 14um results in a stable and accurate temperature reading regardless of the application challenge.
---