Product Announcement from Micro-Epsilon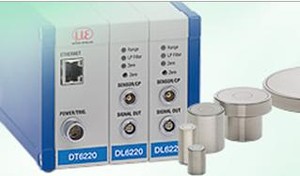 Due to Micro Epsilon's proprietary technology the DT62xx series achieves new performance standards for non contact displacement measurement. It offers the highest possible displacement resolution with incredible temperature stability. The DT62xx is the world's most compact modular capacitive measurement system.
Aside from the outstanding measurement specifications the active guarding with the tri -electrode sensors offer great advantages for your applications. We eliminate any stray reflection and cable bending noise. The guarded homogeneous field measures any conductive target, regardless of it's resistivity and or permeability.
Another big advantage is that different sensor probes can be swapped without recalibration or tuning. Even in applications where the target is electrically isolated or floating, with the active non contact grounding, a stable reading can be achieved.
This capacitive system can also be used to gauge precisely the density / thickness of thin insulator material.
DOWNLOAD your brand NEW 2013 CAPA-CATALOG for FREE:With the addition of new sensor models and conditioning units Micro Epsilon is now offering the largest selection of capacitive measurement equipment in the world.
Our capacitive sensor probes are available in various ranges and models
(Barrel shaped, flat pancake style with connector or integral cable)
Starting with a full scale range as small as 50 microns up to 30mm, these precision probes can measure under extreme conditions.
(High temperature; cryogenic and /or ultra high vacuum)
Every sensor can be operated with one of the below listed conditioning units:
DT6500: The World's most precise measurement system
DT6350: The World's fastest measurement system
DT63x0: High Precision single channel system
DT6220: Modular compact mulit channel system
DT6100: Compact economic single channel system
DT6019: Miniature single channel system
If your application requires a probe or an electronic which is not listed in the catalog, Micro Epsilon is able to customize a solution tailored to your needs.
Example of custom design options:
changing the shape of the electrode
adjusting the body shape and size for mounting
modify the sensor material (outgasing, food grade etc.)
cable arrangements and miniaturizing
cryogenic or high temperature environment
integrated electronic and sensor for OEM design
You have successfully added from to your part list.

Play NEW Capacitive Measurement Catalog Video on YouTube
---