confocalDT Distance/Thickness Spectrometer
Product Announcement from Micro-Epsilon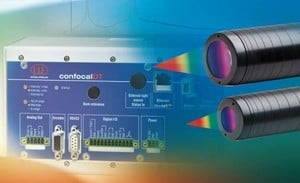 confocalDT 2451/2471 are the latest high end controllers of the confocal chromatic measurement technology offered by Micro-Epsilon. The controller achieves measurement rates of 10,000 Hz using a white light LED and 70,000 Hz using a xenon light source due to a very good signal-to-noise ration. Due to a comfortably designed web interface the total sensor configuration can be effected avoiding any additional software. The data output is effected via Ethernet, EtherCAT, RS422 or analog output. The confocalDT 2451/2471 are applied in challenging measurement tasks regarding the distance and thickness measurement.
The fastest confocal controller available
Nanometer resolution
Real time surface compensation with high speed exposure control
Any target including transparent objects
Configuration via Web-Interface
Precison optical pens
Minature optical pens (90deg siede view option)
Free demo and set up software with SDK available!
The confocal measurement principle
Poly-chromatic white light is focused onto the target surface by a multi-lens optical system. The lenses are arranged such that the white light is dispersed into a monochromatic light by controlled chromatic deviation. A certain distance is assigned to each wavelength by a factory calibration.
Only the wavelength which is exactly focused on the target is used for the measurement. This light reflected from the target surface is passed via a confocal aperture to the receiver which detects and processes the spectral changes.
You have successfully added from to your part list.
---