induSENSOR displacement sensors
Product Announcement from Micro-Epsilon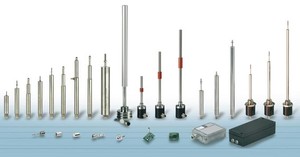 Each technology features specific advantages to fit you individual needs. You can choose from standard catalog models or design with our engineers your own customized model for your individual OEM application.
Best known is the LVDT principle, which is available as the spring loaded gauging sensor or the loose core plunger stroke sensor. Besides the AC sensor models which range from 1mm to 50mm sensing range, we also provide a compact signal conditioning electronic the MSC710.
The LVP model is a mix between an eddy current and an inductive sensor. Its biggest plus is the range to size ration. This technology offers you a factor 3..5 better length to range ratio than a traditional LVDT which makes it a perfect sensor for restricted installation space. With 50, 100 and 200mm ranges these are true DC/DC sensors where no extra signal conditioning unit is required.
The VIP model is the inverted version of the LVP with all its advantages, but instead of a moving plunger a ring slides up and down the sensor rod which reduces the amount for travel space in half. There is a 50, 100 and 150mm range true DC/DC sensor without extra signal conditioning unit available.
The EDS type sensor is the bully of the inductive stroke sensors. Ideal for extreme rough and harsh environments, this sensor can handle high shock and vibration without any problems and is typically integrated inside a hydraulic or pneumatic cylinder.
Last not least there is a very compact LIP sensor which shines with its excellent temperature stability for high temperature applications. Since the sensor can operate in an up to 160C (320F) environment a separate signal conditioning electronic, the MSC 7210, is required.
If you don't find a sensor that fits your needs we will engineer a tailor made sensor for you OEM specification.
Download your free catalog: stroke sensors
You have successfully added from to your part list.

Play induSENSOR displacement sensors Video on YouTube
---