Non-Contact Shaft Run Out Sensor - MicroSense 5810
Product Announcement from MicroSense, LLC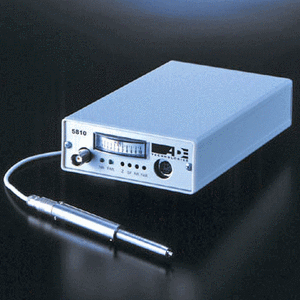 The MicroSense 5810 provides unparalleled resolution for non-contact measurement of rotating shafts, spindles, air bearings and other rotating mechanisms
Ideal for non-contact displacement measurement and dimensional measurement over short ranges, from ± 5 micrometers up to ± 0.5 millimeters.
Reliably measure even poorly grounded targets such as air bearing spindles and motors.
High resolution – nanometer and sub-nanometer resolution is possible. Resolution is determined by sensor size, range and measurement bandwidth.
Use with any grounded, conductive target - material or surface finish has no effect on accuracy
Selectable measurement bandwidth – 1, 5, 20 or 100 kHz.
Select from a variety of available measurement probes to maximize measurement resolution.
Our 5000 series probes are available with a sensor sizes from 0.5 mm diameter up to 5 mm diameter to meet your exact performance requirements.
The MicroSense 5810 includes a compact electronics module (demodulator), with connections for analog sensor output. The sensor head, or probe, which detects the target, is connected to the electronics module via a 3 meter long cable. An isolated, low noise power supply is included.
Industry standard ± 10 volt analog output via a BNC jack on the front panel for easy connection to oscilloscopes, spectrum analyzers or computer-based A/D boards.
The easy-to-read front panel meter simplifies probe set up.
Model 5800 3U Eurocard rack mount version also available
Available Models
5810
Single channel, stand alone displacement sensor with external low noise power supply
5800
Single channel, 3U high Eurocard for rack mounting
5300
Portable Measurement Console, holds 1 to 4 channels of 5800 module, includes integral power supply and large analog meter
---