Tiny Position Sensor Fits in Small Spaces
Product Announcement from MicroSense, LLC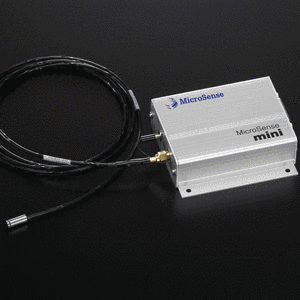 Nanometer Resolution Sensor for Precision Mechanisms and Positioners - Ranges up to 1000 µm
High accuracy, fast response - 0.02% full scale linearity is typical, with no cyclical error or hysteresis
Works with any conductive target, material or finish has no effect on accuracy
Directly measures the target with super-small sensor heads, eliminating Abbé offset errors
Easy installation - sensor head mounts in a simple precision hole
Serial communications port for "in machine" calibration
Flexible OEM Position Sensor Configurations
The MicroSense Mini consists of a compact electronics module (demodulator), with connections for power, analog sensor output and a serial port.
The sensor head, which detects the target, is connected to the electronics module via a 1.5 meter long cable
A variety of sensor sizes are available - sensor size is determined by the measurement range and resolution required.
An optional low noise isolated power supply is available.
---