Portable High Resolution Capacitive Sensor
Product Announcement from MicroSense, LLC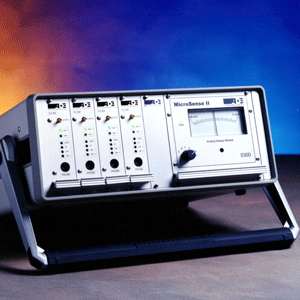 The Model 5300 is ideal for use on the factory floor for measurement and inspection of machine tool spindles, precision X-Y stages, rotating shafts and other precision mechanisms.
* Accepts any single type of MicroSense rack mount demodulator - 6800 and 5800 Active Series or 8800 and 4800 Passive Series Capacitive Sensors
* Differential analog outputs are available via a DB25 connector on the rear panel or via BNC connectors on the front of each channel for easy connection to digital oscilloscopes, spectrum analyzers and computer based A/D boards.
* The MicroSense II Model 5300 comes standard with an easy-to-read analog display module to assist in setting up the probes, and an integral low noise power supply.
* Use with any grounded, conductive target - material or surface finish has no effect on accuracy
* The MicroSense Model 5300 provides up to 4 independent, non-contact displacement measurement sensors in a single, easy to carry console. Option card available for differential measurements. A fifth measurement channel can be installed if the option card is not used.
* A+B: Sum of the A probe and the B probe displacement signals
* A-B: Difference of the A probe and the B probe displacement signals.
* Velocity / Acceleration Option
* A plug-in VA option is available for the MicroSense II Model 5300 system. When configured with this VA option, Velocity and Acceleration measurements are derived for the probe selected on the channel switch. Filtering is provided by three-pole Bessel or Butterworth low-pass plug-in filters. The user selects the upper roll-off frequency (as defined by ANSI standards) over a range from 1-20 kHz.
---