SST12LF09 is a 2.4 GHz Front-end Module (FEM)
Product Announcement from Microchip Technology, Inc.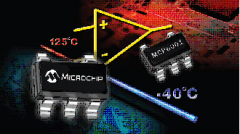 SST12LF09 is a 2.4 GHz Front-end Module (FEM) designed in compliance with IEEE 802.11b/g/n/ac applications. Based on GaAs pHEMT/HBT technology, it combines a high-performance Power Amplifier (PA), a low-noise amplifier (LNA) and an antenna Tx/Rx switch (SW). The input/output RF ports are singleended and internally matched to 50 O. These RF ports are DC decoupled, and require no DC-blocking capacitors or matching components. This helps reduce the system board Bill of Materials (BOM) cost. SST12LF09 is offered in a16-contact X2QFN package.
Input/output ports internally matched to 50O and DC decoupled
Transmitter Chain
Gain:- Typically 24 dB gain
Dynamic linear output power:- Meets 802.11g OFDM ACPR requirement up to 21 dBm- 3% EVM up to 17 dBm for 802.11g, 54 Mbps- 1.75% dynamic EVM up to 15 dBm for 802.11ac, MCS8 40 MHz
Operating current for 802.11g/n/ac applications- 170mA @ POUT = 17 dBm for 802.11g- 130 mA @ POUT = 15 dBm for 802.11n/ac
Receiver Chain
Gain: Typically 13 dB gain
Noise figure: Typically 2.5 dB
Receiver input P1dB: Typically -6 dBm
LNA bypass loss: Typically 9 dB
Bluetooth® Chain
Loss: 1.0 dB
P1dB: >25 dBm
APPLICATIONS
WLAN (IEEE 802.11b/g/n/ac)
Home RF
Cordless phones
You have successfully added from to your part list.
---