Product Announcement from Micromeritics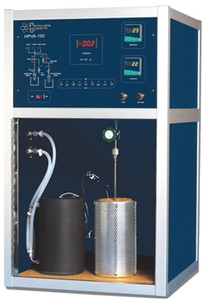 Micromeritics Instrument Corporation has completed the acquisition of the High Pressure Volumetric Analyzer (HPVA) product line and all unique intellectual property from TA Instruments, New Castle, Delaware (HPVA formerly owned by VTI Corporation, Hialeah, Florida). The HPVA 100 and HPVA 100-4 will be distributed and supported by Particulate Systems, a Micromeritics brand.
The HPVA instruments are designed to measure the high-pressure adsorption isotherms with hydrogen, methane, carbon dioxide and other gases using the static volumetric method. Typical applications for this instrument include catalysts, zeolites, activated carbons, carbon nano tubes, and hydrides. Understanding the adsorption characteristics of materials is critical in the research and advancement of hydrogen storage, fuel cells and batteries, stack gas scrubbers, and hydrocarbon traps.
The HPVA product operating pressure ranges from high vacuum to 200 bars. The span of the sample temperature during analysis can be from cryogenic to 500 oC. Sample analysis data collection is fully automated to assure quality data and high reproducibility. In addition to the single-station model, the HPVA is available in a four-station version allowing up to four sample runs to be completed simultaneously.
You have successfully added from to your part list.
---