TriStar II PLUS Surface Area and Porosity System
Product Announcement from Micromeritics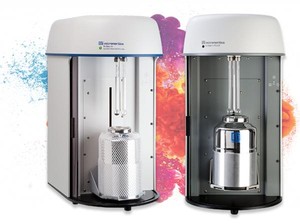 The TriStar II is a fully automated, three-station, surface area and porosity analyzer that delivers high-quality data at an affordable price. It is capable of increasing the speed and efficiency of routine quality control analyses, yet has the accuracy, resolution, and data reduction capability to meet most research requirements. The TriStar II also features a Krypton Option, allowing measurements in a very low surface area range. The instrument combines versatility in analysis methods and data reduction to allow the user to optimize analyses to specific applications.
Features
Surface area and porosity are important physical properties that influence the quality and utility of many materials and products. Therefore it is critically important that these characteristics be accurately determined and controlled. Likewise, knowledge of surface area and especially porosity often is an important key to understanding the formation, structure, and potential application of many natural materials.
A Small Footprint/Packed with Features:
Three analysis ports can operate simultaneously and independently of one another. Three BET surface area measurements can be performed in less than 20 minutes. For additional throughput, four TriStars can be operated with one computer

Surface areas as low as 0.01 m2/g can be measured with the standard nitrogen system. The TriStar II accommodates the use of argon, carbon dioxide, and other non-corrosive gases such as butane, methane, or other light hydrocarbons. A Krypton Option can extend surface area measurements to as low as 0.001 m2/g

A dedicated Po port is standard, allowing the measurement of saturation pressure on a continuous basis. Saturation pressure can be entered manually, measured continuously, or collected over the sample. The TriStar II provides the flexibility to control and fine-tune analysis speed and accuracy

Incremental or fixed dosing routines prevent overshooting pressure points while minimizing analysis time

Free space can be measured, calculated, or manually entered providing maximum flexibility in accommodating special sample types and emphasizing speed when needed. Helium is not required.

Enhanced product support features include: video clips; Ethernet communication between the computer and TriStar; bar code reader capability; diagnostic software; ability to perform remote diagnostics via the internet; and the ability to read and compare historical TriStar data to TriStar II data

A 2.75-liter dewar and extended length sample tubes allow complete adsorption and desorption isotherms to be collected without operator intervention

The TriStar II can collect up to 1000 data points. Fine details of the isotherm can be observed and recorded providing high resolution and revealing pore structure details

Intuitive and powerful Windows®-based software allows more versatility in data archiving and networking. However, the most powerful features of this software are found in its expanded range of data reduction and reporting. SPC reports, isotherm and thickness models, isosteric heat of adsorption, and integrated DFT models are included

Optional sample preparation devices are available combining flowing gas and/or vacuum with heat to remove atmospheric contaminants, such as water vapor and absorbed gas, from the surface and pores of the sample

An attractively designed cabinet combines a small footprint with easy accessibility
You have successfully added from to your part list.
---