Product Announcement from Mil-Ram Technology, Inc.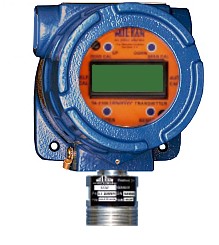 The 3 or 4-Wire smarter Gas Detector manufactured by MIL-RAM TECHNOLOGY, detects hundreds of different gases utilizing several sensor technologies: electrochemical, catalytic, infrared, photo-ionization, solid-state MOS and more. The Gas Detector - TA-2100 - uses MIL-RAM's no false alarms, chemically selective, patented sensors for the detection of Toxic, Oxygen, LEL Combustible and VOC gases. These detectors are suitable for use in SIL 2 environments.
The TA-2100 Gas Detector uses smarter sensor technology to provide the user with more than just a simple gas detector. The many features of the TA-2100 are:
no false alarms MIL-RAM patented sensor technology
Available in SIL 2 environments
Self-Calibration adjusts span monthly based on sensor life curve-reduces calibration frequency and cost
Auto-Gas Calibration, non-intrusive, hands-free, magnetic switches
Not affected by temperature -25 deg C to +50 deg C, stable by design
LCD display - 12 characters x 2 lines. Provides user interface with magnetic switches - no dip switches
Offsite sensor calibration with memory chip embedded in sensor
Peak value, 15 min. TWA
Remaining sensor life, Replace sensor indication
Number days since last gas calibration
Rapid Warm-up
Backlit 12 x 2 LCD display
Optional Relay Module in same enclosure with low, mid, high and fault relays; rated 10 Amps. Gas Alarm relays can be programmed latching or non-latching, energized or non-energized, time delays
Operating Voltage: 12 or 15-30VDC (AC available). Output: 4-20mA, linear
Optional Modbus RTU provides multi-drop installations with serial communications to central control system (PLC, DCS, etc.)
Ethernet option
Continuous advanced diagnostics
Can be used with MIL-RAM'S Wireless Telemetry System
2-Wire also available
The Gas Detector - TA-2100 is applicable for use in a variety of industries such as Chemical Plants, Steel Mills, Oil & Gas, Water & Wastewater Treatment, Air Quality Monitoring, Pulp & Paper Mills, Laboratories, Pharmaceuticals, Tanker Ships & Vessels, Refrigeration, Semiconductor & Electronics, Food & Beverage Processing and any industry where harmful gases are present.
You have successfully added from to your part list.
---