Product Announcement from Mil-Ram Technology, Inc.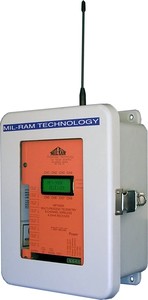 MIL-RAM utilizes 902- 928MHz frequency hopping spread spectrum technology to link any field-installed 4-20mA transmitter with new or existing control systems (controllers, PLC's, etc.) accepting standard 4-20mA inputs. One or more radio transmitters (MPT900T) are installed in the field and each can accommodate up to eight 4-20mA transmitter inputs. Each field radio transmitter (designed for hazardous or ordinary locations) converts the 4-20mA signals (16-bit, high resolution A/D conversion) into wireless data (sensor readings) and sends the data packets to a radio receiver (MPT900R) located at the control system. This receiver converts the wireless data back to discrete 4-20mA analog outputs for direct connection to control system. The MIL-RAM system simply and reliably replaces the wire that traditionally interconnects the 4-20mA transmitter and control system. A MIL-RAM wireless installation provides tremendous cost savings as installation costs associated with hard-wired systems can greatly exceed the cost of the equipment. The MIL-RAM Multi-Process Wireless Telemetry System is practical and cost effective for small systems consisting of only a few monitoring points up to much larger systems utilizing several hundred remote points. Distances between the field installed 4-20mA transmitter and control system can exceed 20 miles line-of-sight. Actual distances depend on antenna selection and specific factors in the environment (buildings, structures, terrain, etc.). Signal repeaters (MPT900RP) are available to extend distances especially in areas where line-of-sight installation is not possible. Additionally, field installed 4-20mA transmitters and radio transmitters can be powered by solar panels in the event local power is not readily available or practical.
The MIL-RAM Wireless Telemetry System is Multi-Process in that any 2-, 3- or 4-wire field installed process transmitter/transducer (temperature, pressure, humidity, flow, pH, conductivity, etc.) that generates a 4-20mA signal can be equipped with a radio transmitter and the data continuously sent to the control system via wireless communications. The radio transmitters/receivers utilize advanced data recognition techniques to ensure data reliability and integrity; corrupt data is automatically rejected. The radio transmitters/receivers have LCD displays for easy configuration which simply involves selection of specific addresses for each field installed 4-20mA transmitter. Addressing provides a unique identity for each 4-20mA transmitter to eliminate cross-talk interference with other devices. The Wireless radio transmitters/receivers are quickly and seamlessly integrated into any new or existing control system to provide continuous and reliable data links between field installed transmitters and the control system.
You have successfully added from to your part list.
---