Product Announcement from Mil-Ram Technology, Inc.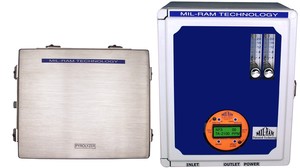 MIL-RAM's Pyrolyzer based detection system features TA-2100 or TA-2102 smarter sample drawing gas detector in conjunction with Pyrolyzer heater to detect chlorinated and fluorinated hydrocarbons (including Freons®). The pyrolyzer provides thermal pre-treatment of the gas stream for detection of target gas at low ppm levels. For ordinary, non-hazardous locations and applications.
Features: Freons® and Chlorinated/Fluorinated Gases
no false alarms Mil-Ram patented sensor technology
Use any Mil-Ram Model TA-2100 or TA-2102 smarter gas detector-hundreds of different chlorinated and fluorinated compounds detected at low ppm levels
Self-Calibration adjusts span monthly based on sensor life curve
Auto-Gas Calibration, non-intrusive, hands-free, magnetic switches
Heavy-duty chemically resistant sample pump suitable for harsh environments
LCD display - 12 characters x 2 lines. Provides user interface with magnetic switches - no dip switches
Offsite sensor calibration with memory chip embedded in sensor
Peak value, 15-min. TWA, Remaining Sensor Life, Replace Sensor indication and number days since last gas calibration
Optional Relay Module (TA-2100) in same enclosure with low, mid, high and fault relays; rated 10 Amps. Gas alarm relays can be programmed latching or non-latching, energized or non-energized, time delays
Optional Modbus RTU (TA-2100) provides multi-drop installations with serial communications to central control system (PLC, DCS, etc.). Ethernet option.
Can be used with Mil-Ram's Wireless Telemetry System
Nema 4x Polycarbonate and Stainless Steel enclosures, non-hazardous areas only
Continuous advanced Diagnostics
Pyrolyzed Gases: C3H3N, CCl4, C6H5Cl, CHCl3, C2H4Cl2 CH2F2, CH3Br CH3Cl CH3I, CH2Cl2, NF3 COCl2, C2Cl4, C2HCl3, Freons® and more.
You have successfully added from to your part list.
---