Product Announcement from Mil-Ram Technology, Inc.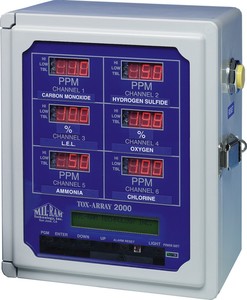 The TA-2000 Multi-Point Controller wall-mount system, front panel programmable, provides in any combination, up to 6 channels of toxic, combustible and oxygen monitoring in a 9-1 /4"W x 11-1/4"H x 6"D NEMA 4X fiberglass enclosure. Any combination of toxic, combustible and oxygen sensors can be used on the TOX-ARRAY 2000. Each channel can have the RS485 4-20mA 3 or 4-wire smarter Transmitter - TOX-ARRAY 2100, that features labor free auto self-calibration, which adjusts span monthly based on life curve, non-intrusive hands free auto gas calibration in 2 minutes, off-site sensor calibration to replace sensors in the field without recalibration, remaining sensor life and replace sensor indicator, four 12-15 Amp time delay relays in the same enclosure option, latching or non-latching, energized or non-energized, diagnostics and backlit 12 x 2 LCD display, peak value, loop test and rapid warm-up. Also can be used with the 2 Wire Loop Powered smarter Transmitter - TOX-ARRAY 2102. MIL-RAM's patented TOX-ARRAY sensors are based on time proven electrochemical technology. A unique and innovative approach to sensor design eliminates false alarms and is not affected by changes in temperature and/or humidity and does not react with air: this eliminates zero drift. Interferences typically encountered on other detectors are avoided with the TOX-ARRAY sensors. The result is fast, accurate and reliable response with outstanding sensitivity and selectivity. The TOX-ARRAY sensors are extremely stable with a service life of greater than 3+ years and are factory rechargeable. No additional electrolyte is required during the 3+ years of life of the sensor charge.
Multiples of the 6-channel controller can be configured in larger enclosures for modular and space efficient expansion of the system.
The TA-2000 is the new generation in microprocessor- based gas detection systems emphasizing simplicity of operation and reliability.
The TA-2000 offers tremendous microprocessor-based capability, the simplified design eliminates the complexity encountered in setting up other microprocessor-based systems. It was clearly designed with the end user in mind.
Each channel utilizes a plug-in module featuring a three-digit LED display. High, low and trouble LEDs provide visual indication of alarm status, while an integral buzzer provides audible indication of alarms at the controller.
Programmable relays offer added flexibility in area monitoring and reduced installation cost. Discrete relays for each alarm level are standard in the same 9-1/4"W x 11-1/4"H x 6"D enclosure.
An easy-to-read, backlit LCD prompts you for easy setup of each channel. Push button switches enable the user to address various setup parameters on the LCD and easily program each channel. Alarm set points, relay assignment and function (latching or non-latching) are easily installed for each channel.
The TA-2000 is designed to operate from field selectable 115 / 230 volts AC, 50/60 Hz,12 or 24 volts DC. An optional battery backup with trickle charge circuit is available as well as RS-485.
Can be used with MIL-RAM's Wireless Telemetry System.
You have successfully added from to your part list.
---