VOC Gas Detectors - TA-2100
Product Announcement from Mil-Ram Technology, Inc.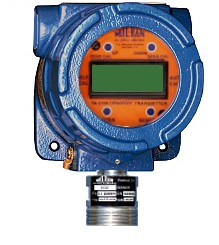 Mil-Ram's RS 485/4-20mA 3 or 4-Wire smarter Gas Detector for VOC Gas Detection. Hundreds of different toxic gases and vapors detected utilizing our PID Photo-Ionization detector element. Some gases detected include Benzene, Cyclohexane, MEK, Styrene, VCM-Vinyl Chloride Monomer and more.
Features: VOC Gas Detector
no false alarms PID Photo-Ionization VOC sensor technology
Self-Calibration adjusts span monthly based on sensor life curve
Auto-Gas Calibration, non-intrusive, hands-free, magnetic switches
Not affected by temperature -20 deg C to +55 deg C, stable by design
LCD display - 12 characters x 2 lines. Provides user interface with magnetic switches - no dip switches
Offsite sensor calibration with memory chip embedded in sensor
Peak value, 15-min. TWA, Remaining Sensor Life, Replace Sensor indication and number days since last gas calibration
Optional Relay Module in same enclosure with low, mid, high and fault relays; rated 10 Amps. Gas alarm relays can be programmed latching or non-latching, energized or non-energized, time delays
Can be used with Mil-Ram's Wireless Telemetry System
Continuous advanced Diagnostics
Specifications: VOC Gas Detector
Detection Range

0 - 20.0 PPM up to 0 - 2000 ppm VOC

Several Ranges Available


Resolution
1 ppm/200ppm; 10 ppm/2000ppm
Response Time
< 30 sec. to 90% of final reading
Recovery Time
< 30 sec. to 90% recovery
Temperature Range
-20 deg.C to +55 deg.C
Humidity Range
0-95% RH, non-condensing
Zero Drift
<1% of full-scale with routine calibrations
Power Requirement
12V-30VDC; 1.82W @24VDC
Output
4-20mA linear. Optional Modbus RTU. Optional Relays; low, mid, high & fault.
Long UV Lamp life
12 months typical under normal operating conditions, depends on environment

VOC gases (VOCs - Volatile Organic Compounds) includes a variety of organic chemicals, some of which may have short and long term adverse health effects. VOCs are emitted by a wide array of products including fuels, paints, cleaning supplies, disinfectants, pesticides, building materials and many more. VOCs are common to the chemical industry where various organic solvents are utilized in chemical processing. VOCs can be continuously monitored at low levels utilizing advanced PID sensor technology specifically optimized for industrial environments.
---