Product Announcement from Milwaukee Cylinder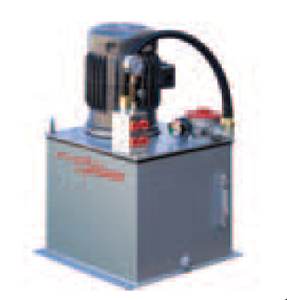 A Vertical Gear Pump Power Unit from Milwaukee Cylinder provides an effective solution for your production requirements.
With a pressure range up to 3000 psi, these units serve as powerful partners for our H Series tie rod cylinders.
Available flow ranges are .5 gpm, 1 gpm, 2 gpm, 5 gpm and 10 gpm. Other models with higher flow are available upon request
A Vertical Vane Pump Power Unit from Milwaukee Cylinder provides a flexible solution for your hydraulic power unit needs.
When the system is at pressure and the volume requirement falls to zero, the pump automatically adjusts the output volume -
- Less heat
- Less wear and tear on the pump

Set Your Pressure!
? Pressure Compensated Pump
? Pump can be adjusted to provide the pressure that your system requires
- Externally accessible user adjustable pressure setting
- Maximum pressure 2000 psi

Set Your Flow!
? Variable Displacement Pump
? Pump can be adjusted to provide the flow that your system requires
- Externally accessible user adjustable flow volume setting
Contact Milwaukee Cylinder for a quote on the power unit configuration that meets your application.
Milwaukee Cylinder, a leader and innovator in the hydraulic and pneumatic actuation field since 1956, is now ISO 9001:2008. Business Leader Frank Meiland states, "This certification allows us to continue down our path of globalization. We have been honing in on key vertical markets (e.g., power gen, oil & gas and certain government branches), and in order to meet their needs, it is absolutely crucial that we achieved this milestone. Although Milwaukee Cylinder has followed the ISO guidelines for many years, the formal certification process helped us become a more consistent organization."
There are many good reasons to work with us…
• Broad application expertise • Ability to solve the tough problems • Trouble-free reliable product • Unparalleled service excellence • Dependable on-time delivery • Highly accessible quality people • Quality product with expert design
Milwaukee Cylinder is a long established and recognized supplier of highly engineered cylinder solutions and is a manufacturer of a standard range of steel and aluminum NFPA tie-rod cylinders for both hydraulic and pneumatic applications. We engineer many unique "specials" for very demanding applications over a wide range of Markets and Industry Segments.
Milwaukee Cylinder also manufactures a range of Industrial Manipulators for material handling applications.
At Milwaukee Cylinder, we operate with a spirit of innovation and creativity, dedicated to meeting the needs and challenges of todays most demanding applications. We take pride in being a producer of High Quality Performance-Tested hydraulic and pneumatic products. Products that have been proven and tested by the worlds leading manufacturers in the harshest environments.
With our on-going commitment to research and development as well as our worldwide sales and distribution network we will continue to meet and exceed demanding customer requirements and provide world-class customer service.
From initial design to after-sale support, we maintain the same high level of quality that our customers have come to recognize from Milwaukee Cylinder.
Online Milwaukee Cylinder Product Selection, Configuration, 2D-3D CAD Drawings & Files
MilCad has been designed as a time-saving tool for facilitating cylinder sales through electronic selection, configuration and instant CAD model generation.
MilCad allows you to configure parts and generate 2D and 3D parametric drawings for Series H, Series LH and Series A cylinders. Accessories, alignment couplers and more will be available soon.
You have successfully added from to your part list.
---