2033A Uninterruptible Power Supply
Product Announcement from Mitsubishi Electric Power Products, Inc.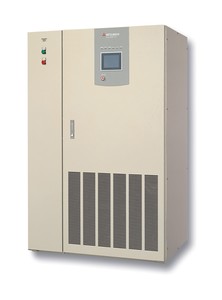 Superior Performance, Reliability and Safety
Come from Experience. Our Uninterruptible
Power Supply Systems Ensure All Three.
Mitsubishi Electric has been developing and manufacturing Uninterruptible Power
Supply (UPS) components and systems for more than three decades. That
experience, and the continuous application of new power-device technologies
to further improve products in the industry clearly explain why Mitsubishi Electric
has dominated a large portion of the world UPS market for years.
When purchasing a UPS system, the key word is "dependability." And there's
one company that many rely on. Uninterruptible Power Supply systems by
Mitsubishi Electric.
Mitsubishi Intelligent Power Module (IPM)
Transistors with Excellent
Performance Characteristics
Mitsubishi Electric is the leading
manufacturer of Intelligent Power
Modules (IPMs), and now utilizes
Intelligent Power Module transistors
in the converters and inverters
of its 2033A Series UPS
systems. These advanced, highperformance
transistors provide
a variety of intelligent features.
l Drive Circuitry
l Overcurrent Protection
l Over Temperature Protection
l Control Voltage Drop
Protection
l Short-Circuit Protection
Low Input Current
Harmonics (THD)
l 3% typical (100% load)
l 4% typical (75% load)
l 6% typical (50% load)
(No additional filtering required)
Generator Sizing Ratio (UPS)
l 1:1 ratio (UPS kVA/
Generator kW)
Low Heat Loss / High
Efficiency
Use of Intelligent Power Module
transistors enables efficient
high-speed switching, thus
reducing heat dissipation in the
UPS. (Higher efficiency means
lower cost per kilowatt
to the customer.)
Mitsubishi – The Leader in UPS Technology, Quality & Reliability
S
You have successfully added from to your part list.
---