3 Phase High Efficiency UPS Systems
Product Announcement from Mitsubishi Electric Power Products, Inc.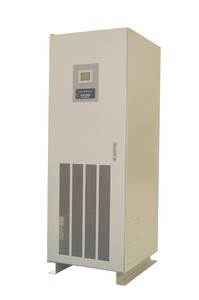 80 480 VAC 480 VAC 0.9 27.6" X 32.8" X 80.6" 855 UP TO 4 MODULES 480 VDC
100 480 VAC 480 VAC 0.9 27.6" X 32.8" X 80.6" 855 UP TO 4 MODULES 480 VDC
150 480 VAC 480 VAC 0.9 35.4" X 32.8" X 80.6" 1,160 UP TO 4 MODULES 480 VDC
225 480 VAC 480 VAC 0.9 35.4" X 32.8" X 80.6" 1,230 UP TO 4 MODULES 480 VDC
KVA INPUT OUTPUT OUTPUT PF DIMENSIONS (WXDXH) LBS PARALLEL CAPABILITIES DC
EXCEPTIONAL EFFICIENCY
This new, high efficiency UPS delivers superior
performance with up to 96.5% system efficiency.
This 3-phase, true on-line, double conversion
system can dramatically reduce the energy
loss, resulting in substantial cost savings of
the UPS system and cooling needs.
RELIABILITY AND ADAPTABILITY
Parallel control circuitry, system static bypass
and control circuitry reside in each individual
UPS Multi-Module System, optimizing control
redundancy and eliminating common control
single points of failure. The 9900A UPS
Module can be utilized in single modular
system (SMS) or multi-modular system (MMS).
This allows for a highly reliable and flexible
system approach.
COST SAVING SCALABILITY
The 9900A is our most compact and lightweight
UPS to date. The design will allow our
customers to save on precious data center
floor space, and can essentially realize
significant cost savings.
OPEN ARCHITECTURE
Our 9900A system provides a variety of
communication methods with features that
make the product inherently easy to use
and maintain.
SUPERIOR PERFORMANCE
The 9900A uses the most advanced IGBT
and highly developed control methods which
delivers optimum system specification and
characteristics.
WARRANTY
The 9900A UPS comes equipped with a
3 year standard warranty.
9900A
>9900AUPS
The 9900A UPS system
uses the most advanced IGBT
in both the converter and
inverter with Digital Signal
Processor (DSP) applied
Direct Digital Control (DDC).
This unique combination
simply means our 9900A UPS
offers superior reliability and
the most efficient system in
the industry.
RELIABILITY
UPS
Uninterruptible Power Supplies
S E R I E S
3 year warranty
W
At Mitsubishi Electric Power Products, Inc.,
we understand that in today's high-speed,
digital world, critical load downtime
can cost your company millions of dollars.
That is why we have developed the 9900A
UPS – our most innovative and efficient UPS.
STANDARD FEATURES
> Fully Digital, IGBT Converter
and Inverter
> Advanced Circuit Topology and
Pulse Width Modulation (PWM)
> Parallel up to Four (4) Modules
> Front Access UPS
> Small Footprint and Weight
> UL 1778 Listed
AC INPUT
> 480VAC 3P, 3W, 60 Hz
> +15%, -20% Voltage Range
> <3% THD @ 100% Load
> Power Factor: .99
> Surge Withstand: meets IEEE,
587. ANSI C62.41-1991
DC LINK VOLTAGE
> 480 V
AC OUTPUT
> 480 VAC 3P, 3W, 60 Hz
> Power Factor: 0.9
> Voltage Accuracy: +/- 1%
> Transient Recovery Time:
20 Milliseconds
> Step Load (100%): +/- 2%
> Voltage THD: 2% Maximum @
100% Linear Load
> Overload: 125% for 2 Minutes,
150% for 1 Minute
> EMI Compatibility: FCC Article 47,
Part 15 Subpart B
OPERATING ENVIRONMENT
> Audible Noise: 70dB @ 1 Meter
> Temperature: 0 – 40°C
> Relative Humidity: 5 – 95% (Noncondensing)
> Altitude: 0 – 7,400 ft.
9900A 225 KVA
20% 40% 60% 80% 100%
98
96
94
92
90
88
•
• • •
W
H
D
•
EFFICIENCY
MEPPI
Mitsubishi Electric Power Products, Inc.
9900A UPS Module
front view
9900A UPS Module
side view
up to 96.5% system efficiency IGBT
Mitsubishi Electric Customized
IGBT Module
Mitsubishi Electric is the leading
manufacturer of Insulated Gate
Bipolar Transistors (IGBT).
Customized IGBT modules are
utilized in the 9900A Series
UPS Systems. These advanced,
high-performance transistors
provide a variety of intelligent
features:
> Large Power Capabilities
> High Speed Switching
> Low Control Power Consumption
> Low Switching Loss
IGBT has become the preferred
power device for UPS systems,
but it is how the IGBT power
device is controlled that is key
to achieving optimum UPS
performance
You have successfully added from to your part list.
---