Product Announcement from Mobius Institute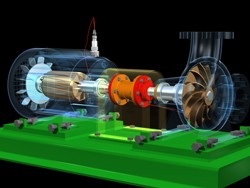 A Fresh Approach to Vibration Training and Certification
In order to master vibration analysis, and gain recognition, you need to be properly trained and certified to an international standard. But for too long this has meant attending old-fashioned (boring) training courses, and taking exams that reward mathematical skills and photographic memory over practical knowledge and diagnostic ability. Well, that is no longer a problem.
Enlightened Training
Imagine a course that focuses on practical issues, using vibration case studies that you can analyze yourself. A course with professionally developed slides filled with 3D animations and software simulators that make everything understandable. Instead of scratching your head in confusion, and watching the clock with boredom, you will enjoy and benefit from every moment.
The Mobius "Ah ha!" Moments
Our attendees love the "Ah ha!" moments the most. It does not matter how many courses you have attended, our training makes the difficult concepts understandable. Our customers keep telling us "You know, I have never really understood that until now."
Travel Budget Cut?
And if your travel budget has been cut, talk to us about our distance learning courses. You can save money and time, and even work the course in around your busy schedule.
I Don't Want To Attend Classroom Training
That's OK; we have lots of options: we can come to your site, you can take our distance learning course, or you can use iLearnVibration to learn at your own pace, on your own computer. And you can use iLearnInterpreter to help you with your vibration analysis.
Recognized Certification
Nothing in the ISO or ASNT standards says that you have to be a mathematical genius (or an expert in turbines) to become certified. The Mobius Institute certification procedures fully comply with the standards, but we have developed exam questions that test your ability as a vibration analyst, not a scientist or engineer. You should know what you are doing, be able to take good data and diagnose machines faults, and perform a few calculations. Our exams are not easy, but they are more realistic.
How Can I Get Started?
We have a variety of methods of providing our training and certification. If none of our programs meet your needs, please e-mail learn@mobiusinstitute.com and tell us what you would like to achieve.
Quick Links
You have successfully added from to your part list.

Play A Fresh Approach to Vibration Training Video
---