Product Announcement from Moffitt Corporation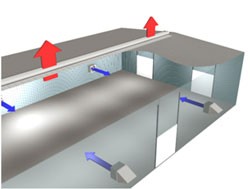 A Pressure Gravity System gives you the best of both worlds. The Natural Ventilation of a Gravity Vent and the Air-Movement Power and speed of fans.
Roof-exhaust fans are great in certain buildings but when used incorrecetly they can do more harm than good. Hot spots, trapped heat, and smoke build-up can all occur when exhaust fans are used wrong. With a Natural Ventilator (such as a Continuous Ridge Ventilator or a Labyrinth) hot air moves up and out of the building naturally, without building up or getting trapped. Plus since its natural, it uses no energy and requires little to no maintenance.
The Natural Ventilator is then supported by supply air. Intake fans are placed where needed, penetrating deep into the plant and eliminating ventilation dead zones in a facility. By placing the fans on the walls instead of on the roof, they are moving clean, fresh air instead of hot dirty air and as a result last longer. Furthermore, fans on the wall can be repaired with a step ladder, where as roof fans often need personnel to make dangerous trips up to a building's rooftop.
You have successfully added from to your part list.

Play Pressure Gravity Ventilation is the Greener Choice Video
---