Integrated Brushless DC Motor and Drive
Product Announcement from Moog Components Group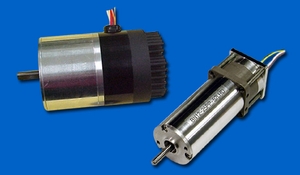 Moog Components Group has introduced a new high-performance brushless DC motor with integrated drive.
The motor has built-in electronics that give the advantage of a compact package size while offering quiet, efficient and smooth operation. The motor/drive is targeted for medical equipment, packaging machines and semiconductor handling applications.
BND12 and BND23 models have torque ratings from 1.7 oz-in to 22.0 oz-in with speeds up to 12,000 rpm. Each frame size is available in different lengths with the integrated electronics optimized for each motor's operating parameters. The compact motor/drive design is designed for applications that require low audible noise, long life and efficient operation. All motor, drive and feedback connections are pre-wired internally to simplify installation. The integrated package minimizes space and requires fewer parts by eliminating separate drive hardware. The integrated motor/drive offers new alternatives for increasing machine throughput and performance. The motor's brushless configuration reduces maintenance and downtime and is also a competitively priced replacement for stepper motor systems.
Moog Components Group is a world leader in innovative solutions for motion technology, optical components and electronic systems with unique design, engineering and manufacturing capabilities. Motion product lines include motors, drives, resolvers, slip rings, actuators and advanced electromechanical assemblies. Optical components include crystals for use in solid-state laser systems, specialty crystals and microchip laser devices. Electronic products include MEMS-based fiber optic switches, fiber optic modems, hybrid electronic and avionic products. # # #
You have successfully added from to your part list.
---