MORNSUN Isolated CAN Transceiver
Product Announcement from Mornsun Power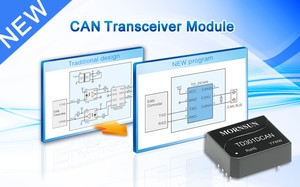 Traditional transceiver can only receive and dispatch signal, which requires external isolation chip/optocoupler and DC/DC isolation power supply to realize the signal isolation.
MORNSUN's new integrated Isolated CAN transceiver module, the combination of transceiver chip, isolation chip/optocoupler and isolation power supply is an ideal solution to replace the traditional optocoupler design to simplify customer's design.
Compared to the optocoupler design, these modules are featured with :

Smaller size, lower consumption, and higher port protection
Long term stability design
Higher port protective capability
Completed reliability testing
Completed EMC protection circuit recommendation
Module No.

Nodes/Bus voltage protection

110 nodes
-36V ~ +36V

3.0-3.6V
4.5-5.5V

110 nodes
-27V ~ +40V

110 nodes
-58V ~ +58V
View datasheet at http://www.mornsunamerica.com/uploadfiles/TD_DCAN_EN.pdf for more details.
---