Digi-Pulse Speed Sensors
Product Announcement from Motion Sensors, Inc.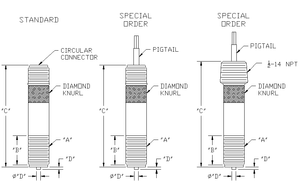 Description
Digi-Pulse sensors with digital output offer a low cost solution for interfacing directly to data acquisition systems. These sensors integrate a preamplifier/signal conditioner within the sensor housing and offer the advantages of excellent noise immunity and greater transmission capability. Input power supply requirements cover the most popular ranges for both commercial and industrial use. The output frequency of these sensors has a square pulse waveform (digital) that directly relates to the number of turbine blades, gear teeth, etc. that have been sensed. These pulses, in turn, can be correlated to determine flow rate, RPM, or velocity.

Types
Models are available using either Variable Reluctance (Magnetic) or RF (Eddy Current) technology.
Certifications
These sensors also have EU certification for emissions and immunity (CE mark) and comply with EMC directive 89/336/EEC for installation into any environment. Intrinsically Safe models certified to ATEX and CSA are also available.
Installation Considerations
Please click to view Installation Drawing.
Customization Options
In addition to Standard Models, MSI can make Custom Digi-Pulse sensors in other lengths, diameters, configurations, mounting threads (e.g., metric) as well as with different operating specifications and options like pigtail leads, NPT threads for explosion proof applications, etc. to satisfy special requirements. Hermetically sealed models to protect against moisture intrustion are also available. If you do not see a sensor that meets your needs, please contact Motion Sensors at 252-331-2080 or eng@motionsensors.com to discuss your requirements.
---