Product Announcement from Mouser Electronics, Inc.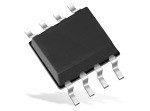 Maxim Integrated MAX31850 / MAX31851 cold junction compensated 1-wire Thermocouple to Digital Converters are accurate thermocouple-to-digital converter ICs that ease design effort and lower system cost. The 1-wire interface simplifies multi-thermocouple systems with minimal wiring. Each device has a unique 64-bit serial code stored in an on-board ROM. They also feature four pin-programmable bits to uniquely identify up to 16 sensor locations on a bus. MAX31850 / MAX31851 simplify system fault management and troubleshooting by detecting thermocouple shorts to GND or VCC. These devices also detect open thermocouple. They are ideal for use in a variety of applications, including precision industrial thermal monitoring, medical equipment, solar equipment, automotive, and more.
SUBSCRIPTION CENTER - Mouser's Newest Products and Application News. STAY CONNECTED. Subscribe NOW.
See the Newest Products First
Gain Insights on Applications and Technologies
Customize your Preferences and Interests
You have successfully added from to your part list.
---