Product Announcement from Mouser Electronics, Inc.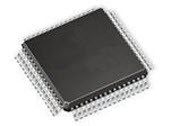 NXP's PCx8537 LCD Drivers are a fully featured Liquid Crystal Display (LCD) driver, specifically designed for high-contrast Vertical Alignment (VA) LCD with multiplex rates up to 1:8. They generate the drive signals for any static or multiplexed LCD containing up to eight backplanes, 46 segments, and up to 352 elements. The PCx8537 features an internal charge pump with internal capacitors for on-chip generation of the LCD driving voltage. To ensure an optimal and stable contrast over the full temperature range, the PCx8537 offers a programmable temperature compensation of the LCD supply voltage. The PCx8537 can be easily connected to a microcontroller by either the two-line I2C-bus (PCx8537AH) or a three-line bidirectional SPI-bus (PCx8537BH).
SUBSCRIPTION CENTER - Mouser's Newest Products and Application News. STAY CONNECTED. Subscribe NOW.
See the Newest Products First
Gain Insights on Applications and Technologies
Customize your Preferences and Interests
You have successfully added from to your part list.
---