Product Announcement from Multi/Cable Corporation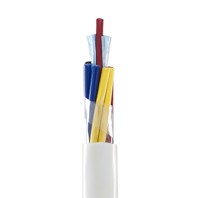 Electronic Cable (Multi-Conductor | Multi-Pair | Multi-Triad) available in Unshielded, Shielded, or MultiShield (Foil & Braid) for process instrumentation, computer peripherals, or internal or external wiring of OEM equipment.
Product Description:
Stranded tinned copper conductors
Flame retardant 105 degree C PVC insulation, color coded to customer specification
Conductors available numbered sequentially at regular intervals for easy identification
Conductors concentrically cabled on a common axis with clear polyester binder tape to form a round & compact cable core
Available Unshielded, Overall Shield, Individually Shielded Pairs or Triads + Overall Shield, MultiShield (Foil & Braid) Shield
Nylon ripcord under jacket for easy stripability
Overall Flame Retardant PVC jacket color coded & printed to customer specification
Operating Temperature:
-20ºC to 80ºC
105ºC rating also available!
Voltage Rating:
300 Volt
Add "-6" to part number for 600 volt construction (extra wall thickness required - consult factory)
Approvals:
Manufactured & Tagged per (UL) AWM Style 2464- 80 degrees C, 300 Volt
Passes (UL) VW-1 Flame Test
Passes CSA FT2 Flame Test
C(ul) Approved
RoHS Compliant
Availability:
Made to order
Cut to length
Stocking program available
MULTI/CABLE CORPORATION, founded in 1975, is recognized today as a leading manufacturer of multi-conductor, multi-pair / triad and speciality composite wire and cable.
We believe in supplying customers with the exact product they need, in the needed amounts, when they need it. This means:
Our engineering staff is available to assist in custom constructions.
We can "cross match" to other manufacturer part numbers.
We have the lowest minimum order quantities in the business.
And we offer quicker delivery than our competitors.
We serve customers in all industries, including aerospace, agriculture, defense, food processing, medical instrumentation, broadcasting, petroleum, utilities, wire harnessing, automobiles, robotics, oil refining, and more.
Our product line utilizes a wide variety of conductors, insulating, shielding, and jacketing materials so that we can assure our customers the proper cable for their most critical applications. To guarantee quality, we test to the most up to date industry standards such as UL, NEMA, ICEA, and ISA.
Our years of experience in supplying the world's largest wire and cable distributors, industry leading OEMs and everyone in between have truly made us "The Wire People". Our sales and engineering staff welcome your inquiries; therefore, please do not hesitate to contact us for any pertinent wire and cable information.
As a custom manufacturer of electrical wire & cable, we're always developing new specialty cable products to meet the needs of our customer's unique applications.
While we truly excel in custom cable manufacturing, we're also constantly making industry standard cable constructions - from the simplest hookup wire to the most complex multiconductor cable. Often times, customers simply provide a competitor's part number, and we manufacture to that exact specification.
Overstock Inventory | Great Values
Multi/Cable's extensive engineering and manufacturing capabilities allow us to be able to meet the needs of virtually any electrical wire and cable application. Our products can be found everywhere, from the wiring in electrical devices to the site of Boston's Big Dig project.
From 500,000 feet of single conductor hook-up wire, to 500 feet of a 100 pair thermocouple cable, from geophysical exploration cable to be used in arctic conditions to high temperature cable for industrial furnaces, we will meet your needs!
You have successfully added from to your part list.
---