360-Degree TMR Magnetic Angle Sensor MMA253F
Product Announcement from MultiDimension Technology Co., Ltd.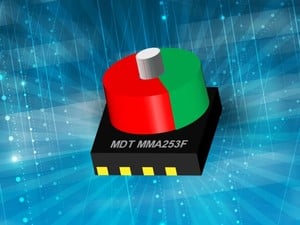 The MMA253F TMR magnetic angle sensor features 360-degree angle measurement with high precision and low power consumption, for use in rotary encoders, speed sensors, BLDC controllers, and a variety of industrial applications. Designed with TMR (Tunneling Magnetoresistance) technology, this dual-axis magnetic rotation sensor produces two large sine/cosine signals at very-low power consumption of 3.5μA per-axis. The MMA253F sensor utilizes two unique push-pull Wheatstone bridge design including eight TMR sensor elements, which produce best-in-class sine/cosine signals with peak-to-peak magnitude above 90% of the supply voltage, eliminating the need for amplification. Additionally, it demonstrates excellent thermal stability over -40°C - 125°C, thanks to the TMR Wheatstone bridge technology that accurately compensates the output against changes in ambient temperature. It can operate under a wide magnetic field range, enabling precision measurement with relaxed air-gap tolerance. The MMA253F is assembled in a small LGA8 package of 3mm x 3mm x 0.75mm.
Features and Benefits
Tunneling Magnetoresistance (TMR) Technology
Large Signal Output: 1030 mV/V
Very Low Power Consumption: 3.5μA at 1V Supply (per-axis)
Outstanding Thermal Stability: TCOV 0.1%/°C from -40°C - 125°C
Wide Air-gap Tolerance
Wide Range of Supply Voltages: 1V - 5V
Applications
Rotary Position Sensors
Rotary Encoders
Brushless DC Motor (BLDC) Controllers
Contact-less Potentiometers
Valve Position Sensors
Knob Position Sensors
---