Low-Power Bipolar TMR Magnetic Switch MMS101H
Product Announcement from MultiDimension Technology Co., Ltd.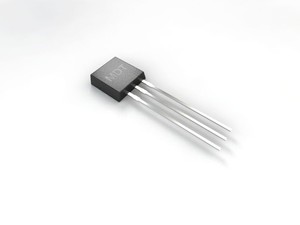 The MMS101H (also MMS201H, and the new 1.5μA MMS1X1H and MMS2X1H) TMR (tunneling magnetoresistance) magnetic switch sensors are designed for use in smart flow meters, including water flow meters, heat flow meters, and gas flow meters. The MMS101H features ultra-low power consumption at 3.4μA. It is suitable for a variety of high-end industrial applications, such as proximity switches, position sensors, and speed sensors. Unlike similar products that must employ power cycling to reduce power, this sensor achieves low power during continuous operation, and it ensures accurate and high-speed magnetic field detection.
Features and Benefits
Bipolar Latching Operation with Sensitive Switching Points at +/-15 Gauss
Ultra Low Power Consumption at 3.4μA with 3V Supply
Continuous Operation for Reliable Measurement
Compatible with a Wide Range of Supply Voltages from 1.8V to 5.5V
Excellent Thermal Stability over -40°C to 125°C
High ESD Tolerance > 6.5kV
Small SOT23 Package and Alternative TO92 Package
Applications
Smart Flow Meters and Utility Meters including Water, Gas, and Heat Meters
Solid State Switching
Speed Sensing
Linear Displacement Sensing
---