360-degree TMR Magnetic Angle Sensor from MDT
Product Announcement from MultiDimension Technology Co., Ltd.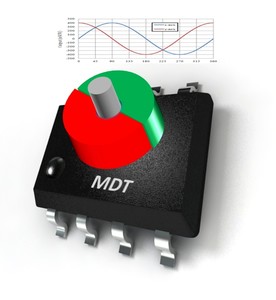 TMR magnetic angle sensors feature 360-degree single-axis or dual-axis rotary position measurement, and output voltages sinusoidally proportional to the angle of a magnetic field applied within the plane of the surface of the sensor. They produce the best-in-class peak-to-peak signal as large as 100% of the supply voltage, without signal amplification. They also feature very-low power consumption at 3.5-7μW, and a wide operating magnetic field range from 60 - 400 Oe that enables precision measurement with relaxed air-gap tolerance. The target applications include rotary encoders, rotary position sensors, potentiometers and speed sensors.
Products
MMA253F Dual-Axis Angle Sensor
Features and Benefits
Large Output Signal with High Sensitivity up to 1030mV/V; Eliminates Need for Amplification
Extremely Low Power Consumption (3.5-7μA@1V Supply)
Compatible with Wide Range of Supply Voltages (1-5V)
Simple and Robust Magnetic Design
Excellent Thermal Stability
Applications
Rotary Position Sensors
Rotary Encoders
BLDC Motor Controllers
Contactless Potentiometers
Valve Position Sensors
Knob Position Sensors
---