Revolutionary Welding Breakthrough
Product Announcement from Multiplaz North America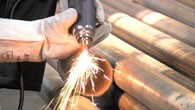 Multiplaz is the only company worldwide that holds a Patent for this unique welding technology by use of a water-alcohol solution instead of shielding gas. It is the first company to utilize ordinary tap water for heating materials by turning the water into plasma 14400°F (8000°C).
Worldwide, Multiplaz 3500 is the only welder with such a broad range of applications.
Multiplaz 3500 can weld, solder, braze, harden, and cleanse metals including steel, aluminum, copper, cast iron, bronze and other metals.
Multiplaz 3500 can cut any metal, including high-alloy and stainless steel that can not be cut with oxygen cutting. Cutting ceramic tiles, quartz glass, bricks, concrete and other inflammable materials is another unique feature of the Multiplaz 3500.
Multiplaz 3500 can replace a variety of different tools: welding machine, gas torch, plazma cutter, nibble shears and scissors, industrial drying fan, electric jig saw, blow lamp, inverter welder… just to name a few.
Operational efficiency is a great advantage of this unit. Despite its low power consumption, Multiplaz 3500 can concentrate the plasma stream into a small diameter jet like a laser.
This feature allows you to melt even thick 12 inch (300 mm) metal to the depth of up to 7/16 inch (10 mm), weld thin plates of 1/64 inch (0.5 mm) to thick ones, surfacing metal on bulk parts and solder tool steels.
The simplicity of using the Multiplaz 3500 lets beginners master the skill of plasma welding, cutting and soldering quickly and easily.
After just a few minutes of working with Multiplaz, experts realize the value and uniqueness of this tool.
Multiplaz 3500 is a compact system that you can put in a tool bag and carry it anywhere.
Order one today: http://www.multiplaz.com/buy
---