Cylindrical Plow Blender for Problematic Solids
Product Announcement from Munson Machinery Company, Inc.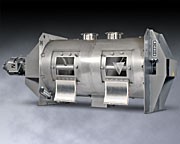 Handles materials that are extremely fibrous, interlocking, dense, abrasive or moist/oily
The cylindrical unit blends at higher speeds, with higher intensity and with more uniform results than trough-style ribbon, paddle and plow blenders.
It consists of a cylindrical vessel and a horizontally-oriented mixing shaft that rotates about 4-times faster than that of trough-style blenders, which fills the entire mixing vessel with fluidized material, maximizing transfer rates while minimizing impact and degradation.
The unit can achieve 100 percent uniform blends in ratios to one part per thousand, blend significantly faster than trough-style horizontal mixers, and handle a greater variety of materials, with the exception of pastes.
It can be equipped with spray nozzles to coat or agglomerate particles, often with less liquid than would be required with trough-style horizontal blenders.
The blender can be configured with: single or multiple charging ports located on the top of the vessel; contoured access doors on the side; double lip, lantern ring or gas/liquid shaft seals; and a paddle gate, knife gate, plug gate or universal flange at the discharge. It is also available jacketed for heating and cooling applications, and with high-speed intensifiers to increase product dispersion and shear.
Drive options include: a torque arm speed reducer mounted in-line or on a countershaft; a directly coupled, shaft-mounted motor/speed reducer; and a foot-mounted gear-reducer-to-chain sprocket drive.
The unit is equipped with automated controls and constructed of stainless steel finished to sanitary standards.
---