Inline Miniature Rotary Batch Mixer
Product Announcement from Munson Machinery Company, Inc.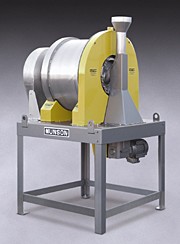 Munson Inline Miniature Rotary Batch Mixer features a stationary inlet and outlet for inline operation, and a rotating drum with proprietary mixing flights that tumble, turn and fold material gently, imparting minimal energy to the batch while rapidly achieving uniformity regardless of disparities in the bulk densities, particle sizes or flow characteristics of batch ingredients.
The stainless steel, sanitary unit, Model 700-TH-5-SS, gently blends batches up to 5.0 cu ft (142 liters) in parts as small as one per million with complete uniformity in less than three minutes, evacuates the batch with no residual, and can be sanitized rapidly with no tools.
The mixer is equally efficient across its useable capacity range of 5.0 to 0.25 cu ft (142 to 7.1 liters). Batch weight capacity of 500 lb (226 kg) is standard, with higher capacities optional.
Built to comply to USDA dairy inspection standards as well as industrial applications involving contamination-sensitive materials and/or frequent product changeovers, the unit features internal mixing flights that are spaced for easy access, all-stainless contact surfaces, continuous, polished welds having 0.25 in. (6 mm) radii, external, removable seals and a CIP vessel cleaning nozzle.
The mixer can be equipped with a spray line for liquid additions or coatings.
Unlike stationary mixing vessels that leave a residual "heel" of material after discharge, the rotating vessel and internal flights of the rotary mixer lift and direct the entire batch into the discharge spout for complete evacuation with virtually no residual material or manual intervention, improving product quality and process control while facilitating rapid, thorough cleaning.
---