Product Announcement from Munson Machinery Company, Inc.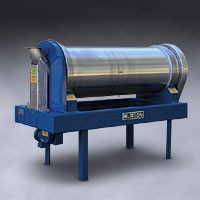 The Munson Rotary Continuous Mixer provides gentle, 100 percent uniform, dust-free blending at rates from 25 to 5000 cubic feet per hour -- inexpensively and in minimal floor space. Whether adding 1/100% minor additive to a blend, liquid-spray-coating a material or homogenizing, Munson has a solution to your continuous processing needs. The unique rotary drum style configuration provides the most-gentle blending action in the industry while attaining the most accurate blends available.
Spurred by the development of sophisticated continuous weighing systems, its design evolved from the need to duplicate the fast, yet gentle 4-way mixing action of Munson's popular Rotary Batch Mixer in a continuous, in-line machine. One of the first dedicated continuous blenders ever offered, the Rotary Continuous Mixer was designed from the outset as a purpose-built machine, and not a modified batch blender unlike many others on the market.
Munson Continuous Mixers feature maximum blending action with minimum required product residence time. A series of internal, stationary circular flights is arranged with pitches diametrically opposed, to provide optimum blending action. The staggered right hand/left hand blending flights create a unique splitting and combining action that produces a uniform blend of ingredients of varying particle sizes and densities. The uncomplicated, compact design of Munson Continuous Mixers assures unlimited versatility and maintenance-free operation.
Superior for liquid additions and coatings, the Rotary Continuous Mixer features rugged, compact construction and easy, straightforward maintenance. Cleaning is simple; the unit is capable of completely discharging any remaining material for fast production changeovers, and offers an optional reversing discharge feature. The Munson Rotary Continuous Mixer is available in many standard construction materials (carbon steel, AR-235, #304 and #316 stainless steel) as well as most specialized materials such as Duplex stainless and Hastalloy for highly corrosive materials. Liners and special configurations are also available.
Benefits
• Capacities from 25 to 5000 cubic feet per hour
• Lower labor requirements
• Lower initial capital investment
• Smaller installation footprint
• Lower power consumption
• Higher throughput vs. comparable batch processes
• Sanitary design available
• Easy cleaning
• Complete, gentle mixing of all materials and spray-introduced liquids.
• Low horsepower, high mechanical efficiency design
• Totally dust tight feed and discharge connections
You have successfully added from to your part list.
---