Rotary Continuous Mixers: Economical for long runs
Product Announcement from Munson Machinery Company, Inc.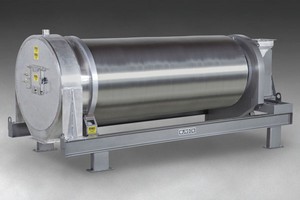 Munson Rotary Continuous Mixers deliver uniform blends in one to two minutes residence time—gently and with low energy use. Cuts labor and operational costs dramatically when mixing dry bulk solids with or without liquid additions in-line over long runs.
The slowly rotating cylinder contains proprietary mixing flights that impart a forward- and reverse-pitch, "back flow" mixing action that distributes bulk ingredients thoroughly and gently in short residence times, while eliminating internal restrictions where material could plug or accumulate.
An optional internal stainless steel spray line with spray head allows uniform introduction of a liquid additive to the blended material. The line is suited for spray coating, de-dusting, perfuming, agglomerating and conditioning of materials. The tumbling and cascading effect produced by internal flights achieves 100 percent uniform distribution of liquids with no overspray.
Unlike designs that shift masses of material back and forth and distribute weight unevenly, the steadily rotating cylinder produces a gentle and consistent mixing action using a smaller drive motor of 0.5 HP (.37 kw). RPM may be adjusted to compensate for angles of repose and densities of different mixtures.
The drum angle can be adjusted from 0° to 12° to control product residence time and throughput rate.
Solid weirs on the discharge end act as a "dam" allowing materials to build a "residence volume" in the machine and overflow the weir.
Dust-tight diaphragms at both the intake and discharge ends are securely retained against the mixing drum and revolving cylinders, preventing the escape of dust or fumes. Material is fully discharged at the end of a run for rapid sanitizing and changeovers.
The mixing drum is supported by heavy-duty Nylon or hardened steel "trunnion rollers" that ride on machined "trunnion rings" for minimum power consumption and rapid maintenance.
Material contact surfaces are of #316 stainless steel finished to sanitary standards. Also available are carbon steel, AR-235, #304 stainless steel and specialized materials such as Duplex stainless and Hastalloy. Liners and special configurations are also available.
The company also offers large-scale Sanitary Rotary Continuous Mixers with up to 20 HP (14.92 kw) in diameters to 60 in (152 cm) and lengths to 15 ft (457 cm), having capacities of 4275 cu ft/h (121 cu m/h) at 1-minute residence time, and 2100 cu ft/h h (59 cu m/h) at 2-minutes residence time.

---