Product Announcement from Munson Machinery Company, Inc.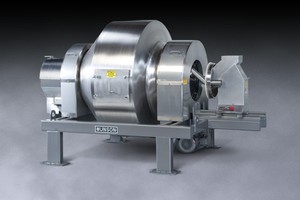 The Munson Rotary Batch Mixer offers the fastest cycle times and the lowest energy consumption per pound of blended product per hour, plus 100 percent uniform particle distribution, 100 percent uniform liquid coatings, gentle product handling, and complete discharge with no segregation of blended products.
Proprietary internal mixing flights create the unique Munson blending action. The gravity driven process produces a rapid, thorough blend while imparting minimal energy and intensity to the product. This maximizes equipment life without sacrificing blend quality. The same blending action provides an ideal fluid bed for coating, impregnating and agglomerating. Continuous rotation throughout the entire blending cycle assures that all materials remain in motion and prevents segregation in batches of varying material densities.
Munson offers two series of Rotary Batch Mixers: the Production Series for maximum batch sizes of 5 to 600 cu. ft., and the "Mini Mixer" Series for maximum batch sizes of 0.25 to 15 cu ft. — ideal for laboratory, pilot plant and other low capacity applications. For capacities in the range of 42 cu ft/h (2 min. residence time) to 4275 cu ft/h (1 min.residence time), please see Continuous Rotary Mixers.
All are available in a variety of construction materials and finishes, and can handle a diversity of materials from highly abrasive minerals and stone products to sanitary foods and nutraceuticals.
In addition to high volume production units (pictured above), Munson offers Mini Rotary Batch Mixers for laboratory and small volume production applications.
All Munson Rotary Batch Mixers are offered with a wide range of options to optimize performance for general as well as specific applications, including ultra sanitary applications.
Munson also offers dedicated rotary glass batchers to satisfy the unique demands of mixing glass particles and other highly abrasive materials.
In addition, Munson Rotary Batch Mixers are readily configured for drying, cooling, or moisturizing in conjunction with, or independent of, mixing operations.
You have successfully added from to your part list.

Play Rotary Batch Mixer is Fast, Efficient, Thorough Video
---