Product Announcement from NERAK Systems Inc.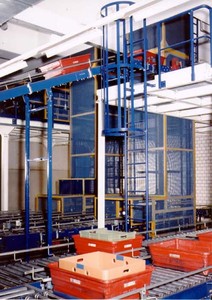 NERAK Continuous Vertical Conveyors are the solution to elevate or lower containers, boxes, trays, packages, bags, luggage, Pallets and other articles from one level to another in a continuous high speed and high capacity operation. NERAK conveyors run in Postal Sorting Facilities for trays and totes, Airports and Seaports for luggage handling, in Industrial Distribution Warehouses and Production Facilities.
NERAK Vertical Lifts are the solution if you need to change floors, pass over a drive way or elevate to your conveyors on a mezzanine floor or below the ceiling. Automatically loading Carrying Platforms transport the items continuously horizontal-vertical-horizontal without stopping the Conveyor. Continuous Vertical Conveyors (CVC) are also known in the Industry as S-Shaped Conveyors, Box Lifters and Vertical Lift Units.
NERAK Continuous Vertical Conveyors are available as Z-Type models which can convey up to 50 items per min. or as C-Type models which can convey up to 25 items per min. The actual possible capacity depends on the size of the item conveyed. Item loads can range from under 1lb to over 5000lbs!
The conveyors can be used for upward direction, downward direction and combined upward and downward direction. The Vertical Lifts can be as high as 100 feet. The small footprint compared to incline conveyors or spiral type conveyors save valuable floor space.
NERAK Vertical Lifts are available in many sizes to match your product dimensions and minimize the space needed for the conveyor. Every Vertical Conveyor is designed to match your needs. Made from standardized sections they will match your on site requirements for each conveyor.
You have successfully added from to your part list.
---