Reciprocating Conveyors Elevate or Lower Boxes
Product Announcement from NERAK Systems Inc.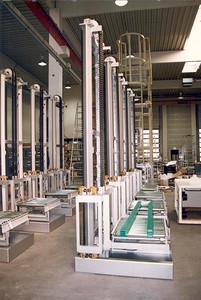 reciprocating conveyors
NERAK Reciprocating Conveyors are the solution to elevate or lower containers, boxes, trays, packages, bags, Pallets and other articles from one level to another or for multilevel applications in a reciprocating operation.
These NERAK Vertical Lifts are the best solution if you need to change floors, have multiple level destinations, need to transport in various horizontal directions after lifting or have medium to low throughput rates.
The horizontal conveyor on the lifting carrying frame loads and discharges the conveyed product automatically to the chosen destination.
NERAK Reciprocating Conveyors can convey up to 4 items per min. The actual possible capacity depends on the size of the item conveyed and the vertical distance to be traveled. Item loads can range from under 1lb to over 5000lbs!
The conveyors can be used for upward motion, downward motion and combined upward and downward motion. The Vertical Lifts can be as high as 50 feet.
The small footprint compared to incline conveyors or spiral type conveyors save valuable floor space.
NERAK Vertical Lifts are available in many sizes to match your product dimensions and minimize the space needed for the conveyor. Every Vertical Conveyor is designed to fit. Made from standardized sections we will match your on site requirements for each conveyor.
Carrying Frames come in different styles to fit the need. They carry the horizontal conveyor which can be supplied by NERAK or the customer. We design the right Carrying Frame for your product. All Carrying Frames ensure smooth, stable and gentle transport. The platforms are attached to either one or two (carrying and safety) Rubber Chains. Plastic coated rollers on the carrying frame ensure silent, smooth and secure up and down motion on the vertical columns.
The Carrying Frames can be equipped with roller, belt or other conveyor types. They can be one directional or two directional.
NERAK Rubber Chains with enclosed high-tensile steel cable are the driving and transporting members without wear points that need lubrication or maintenance. The Operation is silent and clean. Different Rubber compounds are available to make the right chain for your conveyor environment. Click here for more information on NERAK Rubber Chains.
NERAK Vertical Conveyors have lower Power requirements and less need for servicing and maintenance compared than any conventional conveying system.
Feeding the conveyed material onto the horizontal conveyor is done by a feed conveyor or your inline conveyor. They start and stop automatically to feed the horizontal conveyor on the carrying frame of the Vertical Lift. Feed Conveyors can be supplied by NERAK or the Customer.
Discharging the NERAK Reciprocating Conveyor is very simple. The horizontal conveyor on the carrying frame transfers onto any running conveyor for continued transport on the designated level.
Casings are available as Extruded Aluminum Profiles Frames, Welded and Painted Tubular Carbon Steel Frames, Welded Tubular Stainless Steel Frames and Welded Tubular Stainless Steel Frames for Food Applications for easy cleaning. Carbon Steel casings can be powder coated, or being painted with an Enamel or Epoxy Paint. Stainless Steel casings can be provided in different qualities, 403 and 316 and in a surface quality of your choice.
The vertical guide bar for the carrying frame is made of tubular steel of flat bar depending on the type of reciprocating conveyor.
Conveyor safety cladding can be made of perforated Aluminum Sheets, Steel Sheets or Clear Plastic Sheets. They protect your conveyor, your product and ensure a safe work environment. Aluminum Sheets or Clear Plastic Sheets are perfect to monitor your conveyor at all time.
All NERAK Reciprocating Conveyors are equipped with generously dimensioned servicing and monitoring openings and removable covers for servicing access.
Special designs for Preexisting Building Lift Shafts are available as well.
Most NERAK Reciprocating Conveyors come ready assembled for convenient on site set up and time saving during installation.
Many Options are available for customer's choice, Zero/Under Speed Sensor, Level and Chain Monitoring Sensors, Current Limiters and Control Panels as well as different types of feed and discharge conveyors and other equipment.
Reciprocating Conveyor with Drive on the Bottom Reciprocating Conveyors, Ready for Delivery Reciprocating Conveyors Reciprocating Conveyor Platform with Roller Conveyor Reciprocating Conveyors with Double Trays or Platform Reciprocating Conveyor with Belt Conveyor Reciprocating Conveyor with Safety Door
---