Color CCD cameras for wide variety of industries
Product Announcement from NET USA, Inc.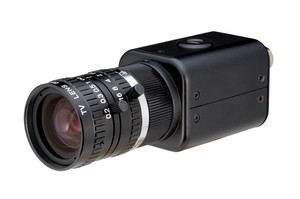 KS722 Features:
- 1/2" high quality Sony CCD
- Digital Signal Processor (DSP)
- 10bit ADC
- Video Output CVBS Y/C
- Shutter Speed up to 1/100.000 sec
- White Balance ONE PUSH function (only color version)
- IR cut filter integrated (only color version)
- All camera parameters adjustable via Software
- External programmable user Functions
- C- / CS - Mount
Optional:
- SNAP to capture an image via external foot switch
- External programmable user Functions
- Ext. Sync in (VBS)
Aplications:
- Bottle inspection / reverse vending
- Security Technology - - Automation and quality assurance - Medical imaging
- Visualization and microscopy - Quality inspection
- Image processing - Factory automation

In addition to the KS722, NET offers the KS120 camera model. The KS120
comes with a 1/2"CCD monochrome image sensor and analog output. The camera is designed for easy integration into cost effective applications where software settings are unnecessary.
---