Tiny Housing Cameras
Product Announcement from NET USA, Inc.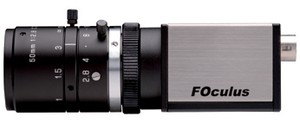 NET's New Electronic Technology presents the FOculus IEEE1394 camera series acc. to IIDC 1.31 CCD and CMOS version. It has new CMOS tiny housing to meet all required assembly dimensions.
FO1631TC( 29 x 29 x 39mm) equipped with a 1.3" CMOS color image sensor ( 2048 x 1536 pixel) is the tiny designed camera of 2 powerful FOculus IEEE1394 camera series from
NET New Electronic Technology.

Among all 2 different FOculus series ( 13monochrome and 15color cameras) with small and tiny casing you will find models with CCD image sensor type
- 1/3" (VGA and XGA) 86 fps (format7)
- 1/2" (VGA and SXGA) 86, 36, 20 fps (format7)
- 2/3" (SXGA ) 20 fps (format7)
- 1/1.8" (UXGA) 16 fps (format7)

and now another 6 CMOS image sensor versions in a tiny - housing ( 2 monochrome and 4 color cameras) available with
- 1/2" (2 Megapixel) 10 fps
- 1/3.2" (3 Megapixel) 8.5 fps
FO1631TC color camera within the tiny FOculus edition achieve a 1.3" CMOS image sensor,
resolution in 3 MP of 10fps external trigger, progressive scan mode
CS-mount
/ C-mount lens mount with interchangeable filters
- 12-pin Hirose snap-in and 6-pin IEEE1394 connector lockable
- 2-color LED status indicator

FOculus cameras are designed for industrial imaging applications with full IEEE1394 (FireWire™) support according to IIDC 1.31 protocol, external trigger, progressive scan mode and C-mount lens mount.

2 different housing versions (44x29x63mm; 29x29x39mm) offer the following features:
- excellent anti-blooming - high sensitivity
- low frame-rate and sub-sampling
- Binning (Vertical 1x2; Full 2x2)
- RS232 (SIO/Pass through)
- Partial Scan: ROI; Format7 free selectable
- Time Stamp - Multi Camera Auto Sync
- Serial I/O Interface (RS232)

belong to its outstanding advanced features that provide possible application to
- inspection and much more.

FOculus is supplied with a viewer software and a complete SDK suitable for all models that can be obtained through our website www.net-usa-inc.com.
Our Application Programming Interface (API) is compatible to
- MVTec's Halcon & Active Vision Tools
- Matrox's MIL & MIL-Lite
- National Instrument's LabView

just to name a few - and can be used to integrate FOculus (also board level version! ) in a user specific application.

Accesssories:
The IEEE1394 interface standard specifies alimited cable length of 4.5 meter. NET´s optical repeater FO800R
covers a distance of up to 1.000 meter between FOculus and PC. The FO800R works as easy as the plug and play
principle. The data communication speed reaches 800 / 400 Mbps depending on the IEEE1394a. / b. standard.
---